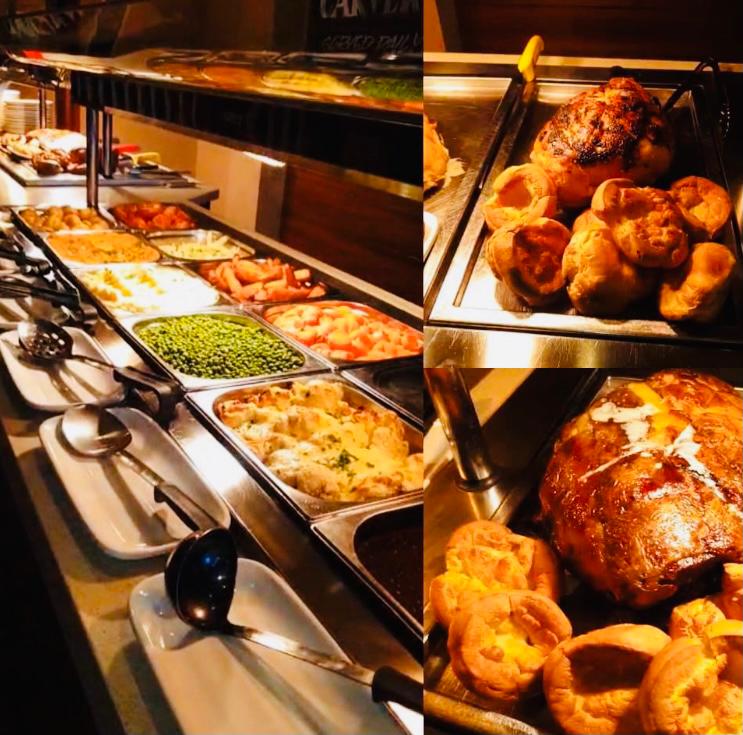 Daily Roast Carvery Monday to Friday 12pm - 2pm & 5pm - 8pm, Saturdays 12pm - 8pm, Sundays 11.30am - 7pm
The Jolly Drovers Daily Carvery is available Monday to Sunday...
With your choice of turkey, gammon & beef (& pork loin on a Sunday 
View Menu
) carved by our amazing carvery chefs and all the delicious vegetables you can imagine...
Roast potatoes, mashed potatoes, baby new potatoes, carrots, peas, swede, cabbage, cauliflower cheese, green beans, sprouts and parsnips! And who could forget the stuffing balls and delicious Yorkshire puddings and mouthwatering meat pan gravy.
Carvery will be available...
Monday to Friday 12pm - 2pm & 5pm - 8pm
Saturdays 12pm - 8pm
* Carvery £10.95 - King Size £12.95 - Kids £6.95
Carvery takeouts are also available served by our amazing chefs. They are presented in the best way to give you the experience of the carvery in the comfort of your own home. With a foil container containing your meat choice, parsnips, roasties and Yorkshire pudding and another filled with the veg of your choice, we also serve you a separate tub of gravy to keep your meal as fresh as possible.